We Offer the Brand that Does It All
Champion air-cooled reciprocating pumps and air compressor packages can be used to match the needs of a wide variety of compressor applications. Champion has air designed for home use and air compressors that are used for plant air service. Champion reciprocating air compressors are well suited for many applications.
---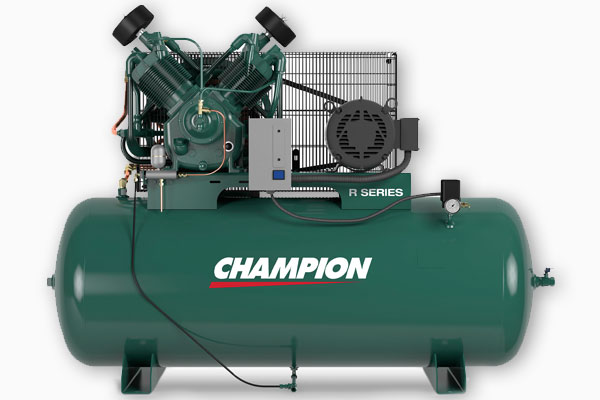 Champion Reciprocating Air Compressors
Competitive Pricing
Service Maintenance Contracts Available
Rated HP 5 - 25
Rated Pressure to 175 PSI
Heavy Duty Cast Iron Pumps (RV Series Only)
Loadless Starting
ASME Receiver Tanks
Vertical or Horizontal Configurations
Duplex Units Also Available

Free Freight

to Your Dock (USA ONLY)
2 Year Warranty for RV Series; 6 year warranty on all other models
Made in USA
---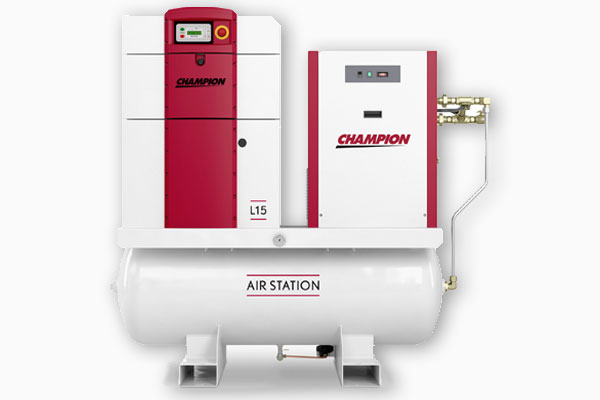 Champion Air Station Screw Compressors
Competitive Pricing
Service Maintenance Contracts Available
Rated HP 5-200
Rated Pressure to 125 PSI
Heavy Duty Construction
Silenced Enclosure
Mounted on ASME Receiver Tanks
Available as Base Model, No Tank
Dryer Packages Available
10 Year Warranty Available
Quick Delivery
---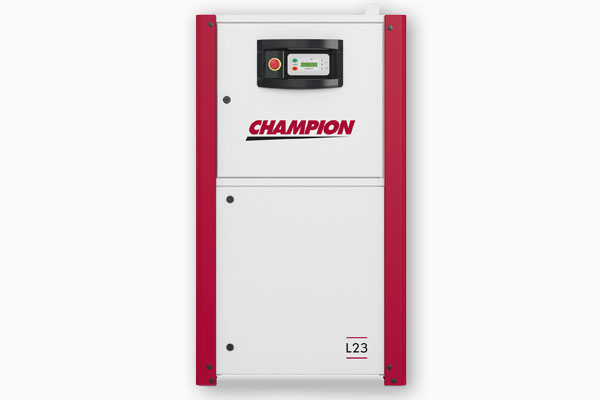 Champion L Series Screw Compressors
Sizes up to 40 HP
Energy Saving Variable Speed
Standard Fixed Speed Available
Rated Pressure to 150 PSI
Heavy Duty Construction
Silenced Enclosure
Small Footprint - Space Saving
Engineered for Ease of Maintenance
Service Maintenance Contracts Available
10 Year Warranty Available
Competitive Pricing
---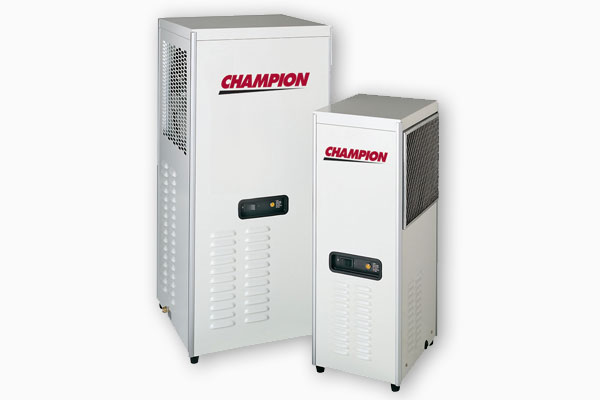 Champion Compressed Air Dryers
Sizes up to 75 HP
Cycling & Non-Cycling Models
Fully Enclosed
Rated Pressure to 175 PSI
High Temperature Versions Available
Silenced Enclosure
Small Footprint - Space Saving
Other Accessories & Services Include:
Air Filtration Installations
Air Piping Installations
Plant Air Analysis Programs
Turnkey Installations
---
Oil Lubricated Rotary Compressors
Champion compressors are energy efficient, quiet and reliable. Choose from a wide variety of rotary screw, rotary vane, and rotary scroll air compressors to fit all your needs from part load to full load applications, low purchase price to the greatest in energy efficiency, direct or belt driven to direct connected. These compressors strengthen Champion's product offering of variable and fixed speed compressor technologies.
Free Freight to Your Dock (CONTINENTAL US ONLY)
---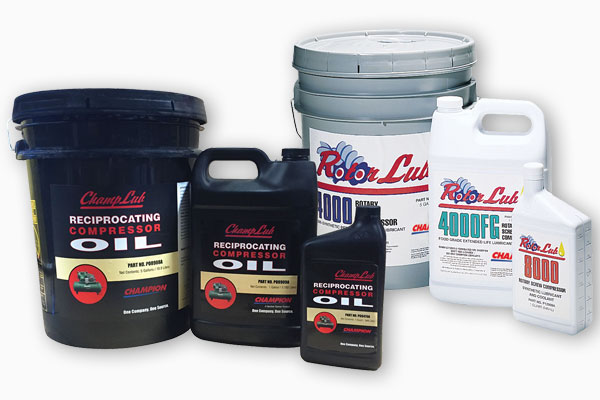 Specially Formulated Lubricants
Champion offers specially formulated lubricants for rotary and reciprocating compressors. Rotor-Lub and ChampLub are both offered in a synthetic and food grade version.
---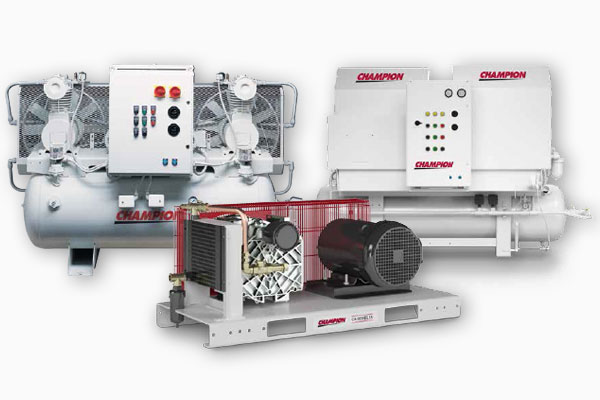 Oil-Less & Oil-Free Compressors
The CA-Series Rotary Scroll compressors provide the reliable, high quality compressed air that you've come to expect from Champion. Designed specifically for industrial and laboratory applications that require 100% oil-less air, CA-Series compressors offer a wide selection of configurations and top-quality available options.
Oil-less reciprocating compressors from Champion are known world-wide for trouble-free operation, long life and built-in efficiencies on which you can count. An ideal solution in intermittent duty applications, the oil-less reciprocating products offered through Champion are a great solution to your oil-less compressed air needs.
---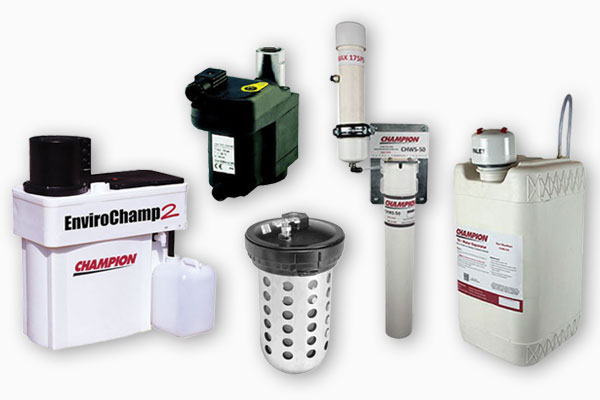 Condensate Management
Compressed air is discharged at elevated temperatures in a saturated condition. Any cooling, which takes place through after-coolers, dryers, or pipelines, causes the water vapor to condense into a liquid form, which then mixes with any oil carryover from a machine. This contaminated condensate cannot be disposed of into sewer systems or onto the ground without being properly treated.
---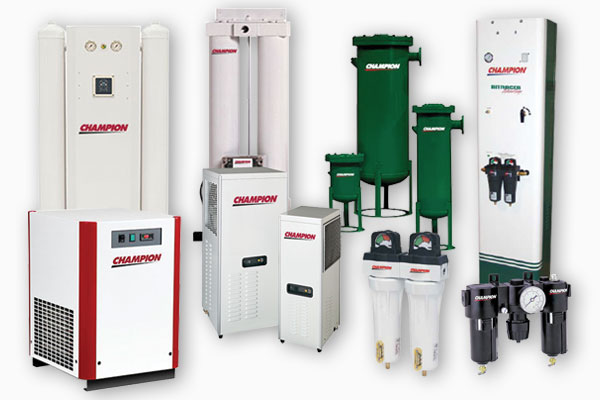 Air Treatment Products
High Inlet Temperature Refrigerated Air Dryers
Non-Cycling Refrigerated Air Dryers
Single Tower Desiccant Air Dryers
Cycling Refrigerated Air Dryers
Heatless Desiccant Air Dryers
Dual Tower Desiccant Air Dryers
Filters, Regulators and Lubricators
Mist Eliminators
Filters
---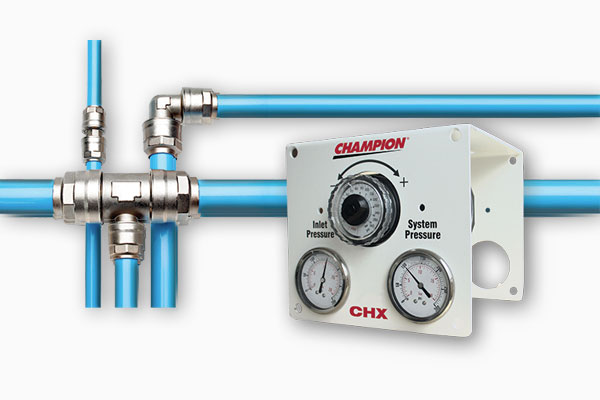 Compressed Air Piping
Champion Quick-Lock Tubing provides total solutions for air, vacuum and inert gas systems.
The CHX Series is a balanced flow controller that provides an economical and reliable single point of control when it comes to controlling the air pressure delivered to your operation.
One of the largest hurdles of a compressed air system is removing in-line water build-up despite the placement of upstream dyers and filters. The DRI Products are tools specially designed to prevent this in-line water build-up.